WHAT WE OFFER
Multiplex assays are simultaneous detection of multiple biomarkers in small volume samples. The Forsyth Institute Multiplex Core has expertise in a wide range of sample types and species. We only need from 2.5 to 50 µl* per sample to detect numerous markers. Assays are available on 3 platforms: BioPlex200, BioPlex3D, and AYOXXA Lunaris™. We have the capability to customize kits based on your project needs. (* sample volume is assay-dependent)
We offer "Full Service" or "Read Only" analysis options for researchers and companies interested in working with our Core. Please inquire by email at multiplex@forsyth.org or phone 617-892-8498 for more information.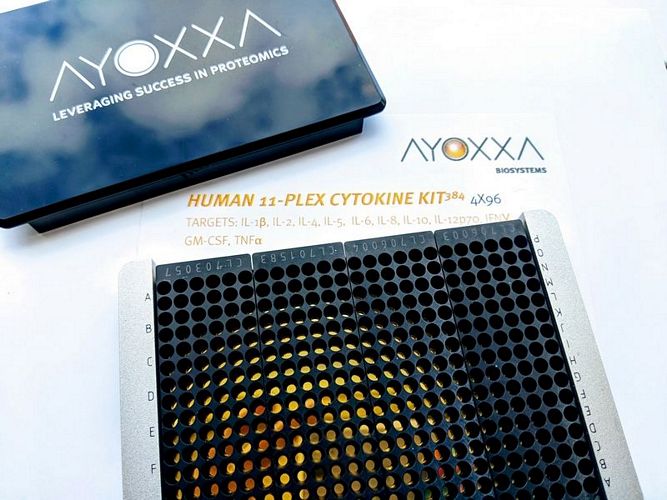 CAPABILITIES
The Forsyth Multiplex Core offers three main platforms:
• Luminex® 200™
• FLEXMAP 3D™
• AYOXXA Lunaris™ Technology
All platforms operate 96-well plate-based assays. FLEXMAP 3D™ and AYOXXA also offer 384-well plate capacity.
• Multiplex protein detection uses antibody-based assays of up to 100 analytes or 500 analytes in a single microplate well using the Luminex® 200™ or FLEXMAP 3D™, respectively.
• Ability to custom-coat beads with various mammalian and non-mammalian molecules such as nucleic acids, receptor-ligands, and siRNA. These require custom-plexing, assay development/optimization, and additional pricing.
• Both Luminex systems use BioPlex Manager from Bio-Rad for acquisition and computation of data.
• Allows easy transfer of the data to Microsoft Excel or other user-friendly programs.
• In addition to the raw and computed data on concentrations and fluorescence intensity, standard curves, %CV, internal control samples, plate-to-plate variation, and standard deviation are only a few of the data output measures.